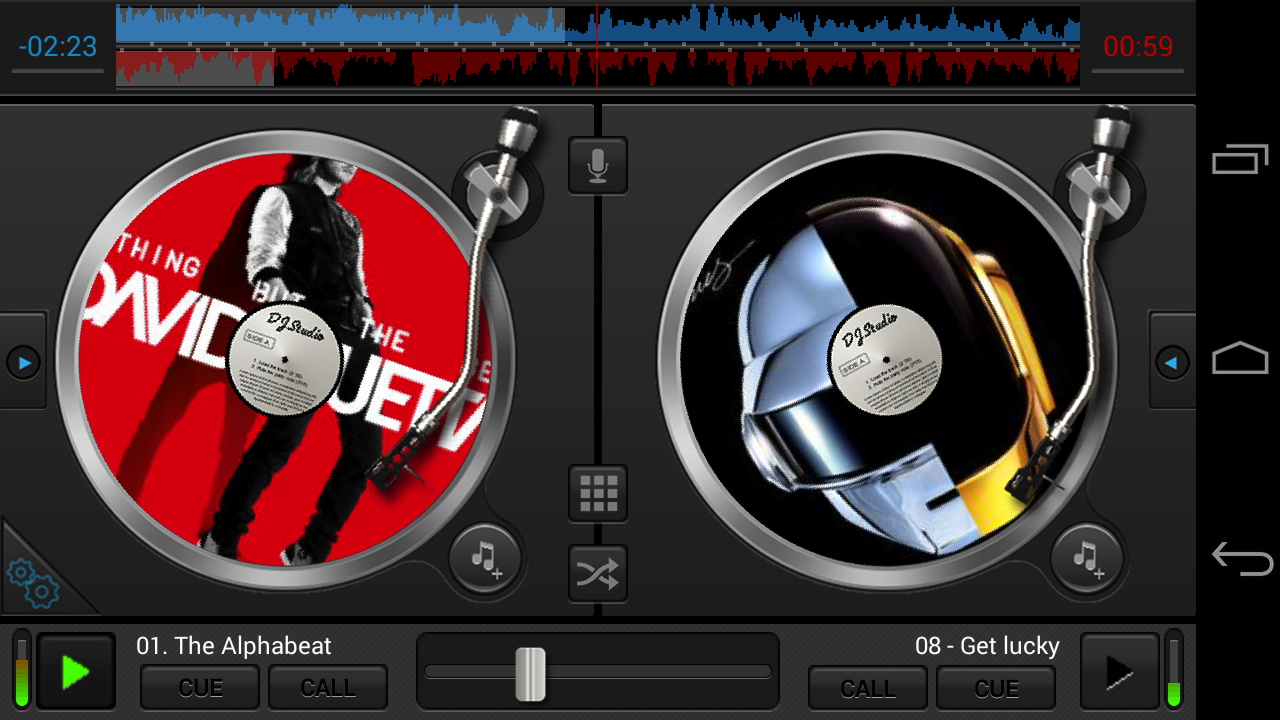 DJ Studio 5
by Beatronik
---
DJStudio is a free, robust and powerful party-proof virtual turntable for DJs which enables you to mix, remix, scratch, loop or pitch your music in the palm of your hands.
Designed to be user friendly, social and responsive, you now have the keys to mix your music and rule the party.
---
DJ Studio respects you:
★ Full app for FREE, no hidden cost.
★ No registration fee.
★ No limitation, no watermark.
★ No trackers.
★ No stealing data.
★ No popups everywhere, everyday.
★ No premium, platinum only features.
★ Freely removable ads.
★ Only optional paid skins to support our work.
Key features:
★ Wide compatibility : Android 2.3 and more
★ 2 virtual turntables with cross fader
★ Customize your decks with up to 7 skins!
★ Unique scratch engine and disc physics
★ Access and browse your mp3 music library by folder, artist, album, name
★ Edit and re-order playlist
★ 8 sound effects: Flanger, Phaser, Gate, Reverb, Bit crusher, 3D, Brake and FlippingDouble
★ 3-bands equalizer for each deck
★ 10 customizable sample pads
★ One CUE/RECALL point per deck
★ IN/OUT and beat based loops
★ Pre-Cueing with headphones or Y-cable
★ Automatic landscape and portrait mode
★ Live record your mixes with the built-in recorder
★ Auto-mix feature (random & playlist modes)
★ Share your mixes on the SoundCloud social network
★ Live sound spectrum view with beats detection and zoom
★ Use your wave and mp3 music library
★ Designed for Nexus devices
★ Share with friends on social networks with Facebook, Tweeter or Google+
★ Compatible with iRigMIX™ from IK Multimedia*
System requirements:
★ Screen compatibility from 3.7" to 10" and HD screens
★ Wide OS compatibility : since OS 2.3
★ Min 1 core 800Mhz, recommended 2 cores
★ 2 cores required for scratch option
★ 1 GB RAM recommended
★ Multi-touch since 3.0
DJStudio is an advanced DJ application suitable for everybody whether you are a novice or a pro. You can use it as a standard free music player, to play your mp3 files.If you like the app, please leave us a review!